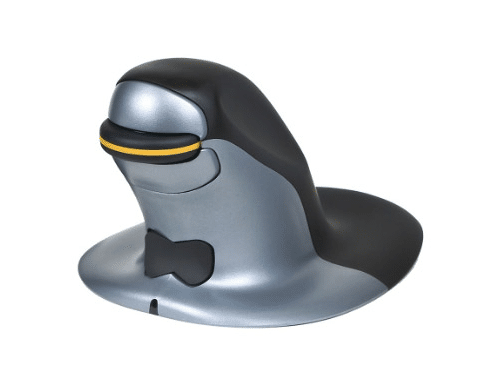 Gadgets and accessories have evolved over time to offer comfort and a more premium user experience. One such innovation is the vertical mouse, an office accessory that offers clear ergonomic benefit over a regular mouse.
What is a Vertical Mouse?
A vertical mouse is designed with ergonomics in mind. It helps the user maintain a 'handshake' form while working. Unlike a regular mouse, it does not require you twisting your wrist when working at a desk.
Advantages of Vertical Mouse:
A vertical mouse keeps the wrist and forearm in their natural resting position, thereby minimizing muscle use.
A traditional mouse can cause Carpal Tunnel Syndrome (CTS) which can lead to pain and tingling in the arms and fingers. Such side effects can be avoided with the use of a vertical mouse.
A vertical mouse allows you to manoeuvre the mouse using your forearm instead of stretching the wrist, adding to its ergonomic benefit.
It allows you to keep the underside of your wrist off the desk, thereby reducing the pressure in that area and offering further ergonomic benefit.
Types of Vertical Mice available in the market:

Anker's Vertical Mouse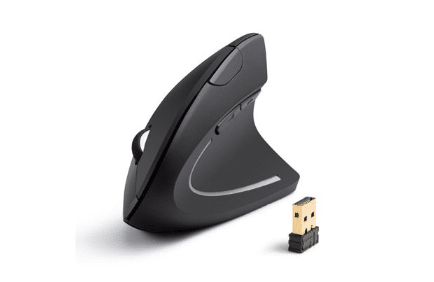 Its ergonomic design makes it easy and comfortable to use, irrespective of your hand size.
The Anker's Vertical Mouse has a total of six buttons. In addition to the traditional right and left click buttons and the wheel for scrolling, there are 2 thumb buttons for easy backward and forward movement. There is also a DPI switch.
The mouse has a rubbery matte finish that adds to its sleek aesthetic and gives it a smooth finish.
Penguin Vertical Mouse
The Penguin Vertical Mouse has a patented shape that allows the hand to be in a relaxed handshake position and eliminates the possibility of forearm twisting.
The shape of this mouse has been designed to provide comfort with convenient programmable buttons.
The additional thumb button at the bottom offers enhanced functionality.
A wide lip alongside the edge of the bottom prevents the small finger from getting rubber against the desk.
The pointer speed controls on the side of the vertical mouse allow adjusting without releasing the mouse grip.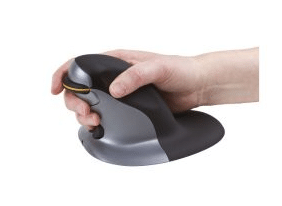 The Penguin Vertical Mouse as sold by Ergo Equip is the perfect solution for an ergonomic mouse.