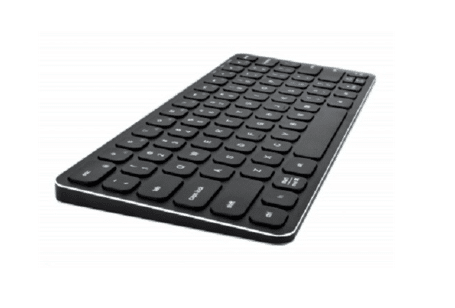 Given that a large portion of the workforce spends a substantial amount of time typing on their computers, it's crucial to ensure that a keyboard offers a comfortable experience. This is where compact keyboards come in.
What is a Compact Keyboard?
A compact keyboard or ergonomic keyboard is available in many shapes and sizes. It is smaller in size than a standard keyboard, which makes them quite portable.
This means you can pack it easily in your bag and set yourself up anywhere.

Features of a compact keyboard:
Though very similar to standard keyboards, compact keyboards generally do not have a numeric pad. Some have an integrated numeric keypad that can be activated using a number lock key. While others have a sliding numeric pad that gives you the option to pull it out when needed.
Compact keyboards also have smaller keycap sizes and shorter keycap distance, compared to a standard-sized keyboard.
Compact keyboards are lightweight.
Advantages of a Compact Keyboard:
Compact keyboards offer an ergonomic benefit as they are relatively symmetrical due to the removal of the discrete numeric keypad.
As compact keyboards are smaller than a standard keyboard, the mouse can be placed closer to the keyboard edge offering greater ease of access.
Allowing users to position the mouse closer to the keyboard ensures that users don't have to reach far for the mouse, thereby avoiding stretching of the shoulder, arm, wrist, and hand.
A compact keyboard is lightweight and thus offers more flexibility in usage.
Compact keyboards are often flatter than standard keyboards, which means that users don't need to tilt their hands upward while typing. This ensures better wrist posture which reduces strain on the tendons.
Quality Compact Keyboards:
Evoluent Essentials Full Featured Keyboard:

● Its compact design makes it a perfect fit for mobile workstations.
● The arrow, F1-F12, PgUp and PgDn keys are full sized, unlike most other compact keyboards which have those keys smaller than standard sizes.
● It has shortcut function keys for common tasks and can be easily paired with mobile devices.
● It is fully flat to eliminate the need to stain hands upward.


NumberSlide Compact Keyboard:

● The NumberSlide's retractable number pad can be slid out and in as needed.
● It reduces the distance between your keyboard and mouse, thus offering an ergonomic advantage.
● Has soft touch standard matt finish keys and shortcut function keys.
● It is equipped with two USB ports and has ProTx2 antimicrobial protection built in it.
● Its compact slim line profile make it perfect for flexible workstations.