---
Description
An updated version of the KB1, the Reduced Reach Right-Hand Keyboard (R3K) keyboard's numeric keypad is uniquely placed on the left side, so that the mouse can be positioned closer on the right. This greatly reduces the reach required for the mouse and offers a more relaxed arm position.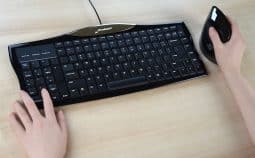 The left side navigation and numeric keys may be operated with the left hand to reduce reaching for them while using a right-hand mouse.
---
Specification
Connectivity
Wired
Dimensions
Width
403mm
Depth
171mm
Height
20mm
Weight
704 grams
Compatibility
Windows, Unix, Linux and others that recognize the Num Lock key.

Not compatible with Mac.

The top row of shortcut keys only work in Windows.

No driver download necessary.
---
Features
Full size arrows, Del, F keys, Ctrl, Alt, Page Up, Page Down, Home and End keys
Tactile bumps on often used keys such as Ctrl, Del, Home, Page Down, and down arrow to aid operation by touch
High quality scissor key mechanisms with crisp action and no key cap wobble
---