BioSmart – Electric sit stand device, heavy duty
---
Specification
Product Specification:
Size: Compressed – 850mm (length) x 640mm (depth) x 570mm (height)
Size: Extended – 850mm (length) x 640mm (depth) x 1230mm (height)
Weight: 47 kg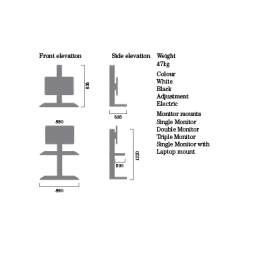 ---
Features
Product features
Fully articulating arms for personalised monitor distance

Designed and made in Melbourne

Smooth and quiet one-touch electronic height adjustability at 38mm/s

Sits flush with desk when in lowered position

Adjustable monitor height for perfect elbow to eye height

Screen tilt and pivot function for movement, adjustability and glare control

PIEZO™ controlled anti-collision technology

Strong and sturdy

Stand-alone, no fixing required

Count calories, alert-to-stand and track progress with optional sit stand management software

Minimal desk-space footprint

Invisible gliding pads for optimised movement

Tidy cable management system

Elegant design
Suitable for screens between 19" to 27".

Monitors must have VESA mount (either 50, 75, 100 mm).
Note that this item is not compatible with Apple monitors (iMac).
Delivery
The item is shipped fully assembled and ready to use

Basic IT fitting and equipment set-up is required on site for maximum workspace productivity

Heavy load, lifting equipment is recommended.
---